I'm pretty happy with the final results of this pattern study. As simple as it appears, it seems to have endless color possibilities, and better: it has one or two satisfying quirks that elevate it beyond mere "floral" (see if you can spot them).
Click on the photos for a larger view. Want to buy these as fabric, wallpaper or giftwrap? Click here.
I had been wanting to do another vine pattern since my first Leafy Vine project. That pattern is still a popular download on Creative Market. I'm intrigued by the universal attraction of the vine motif, and have been wanting to create something that feels both primal and new.
Like most of my most recent patterns, Baby Tears started out as a pencil sketch. When it began to show promise, it was scanned, converted to vectors, and gradually refined (it was abandoned and rediscovered a few times, too).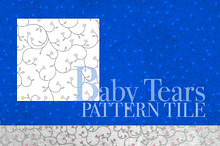 It's now available on a wide range of high quality fabrics via Spoonflower in the colorways above, plus a few more (click here to see all of them).
There is also a modified version (with a smaller tile area) available as a digital download on Creative Market.
Some of my articles mention and link to products on the Amazon.com website. Here's the disclosure text:
Penina is a participant in the Amazon Services LLC Associates Program, an affiliate advertising program designed to provide a means for sites to earn advertising fees by advertising and linking to amazon.com.