Seamlessly Tiling Wallpaper Posters
I learned about Hanna Werning's brilliant wallpaper posters from a blog post on Colourlovers, and can't stop admiring them. What a cool idea!
The patterns repeat seamlessly from poster to poster, and there is plenty of room for improvisation. For my favorite design, called Tiles, Hanna recommends we try installing it up-side down or with a half repeat to make the pattern less regular. Individual posters are 50x70cm (19.7×27.6in), and are applied with wallpaper glue.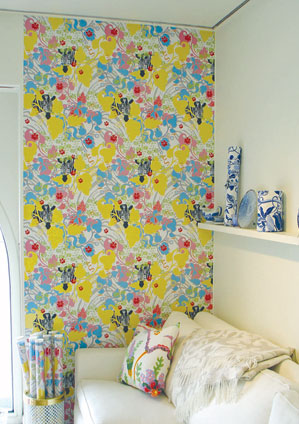 I love the idea of accenting just one wall, or even part of one wall, with bright and bold patterns. There are some excellent photos of wallpaper posters in use on Hanna's site, as well as other palettes (including black/white), and other beautifully designed products, too.
As an artist, the idea of playing this way with a seamlessly tiling pattern is inspiring. The option to output custom ideas in small quantities would be an awesome on-demand product along the lines of Spoonflower (which does on-demand fabric printing).
I haven't yet looked to see if there are others using this concept. Also, it's been years since I've used wallpaper glue, and I wonder if there is something less permanent, out of consideration for my landlady.
Finally, I can't resist including this photo of some very tiny tiles—Hanna's Dollhouse Tape. I wonder what else I can use it for… 🙂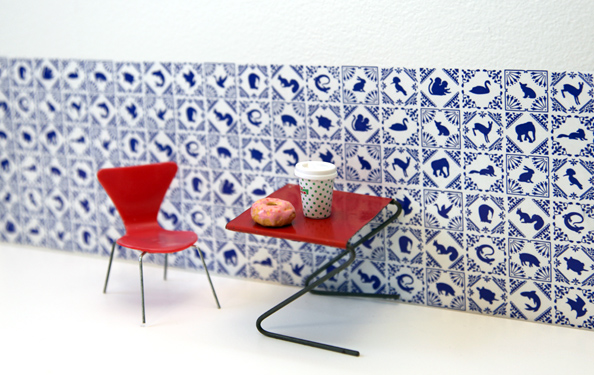 Some of my articles mention and link to products on the Amazon.com website. Here's the disclosure text:
Penina is a participant in the Amazon Services LLC Associates Program, an affiliate advertising program designed to provide a means for sites to earn advertising fees by advertising and linking to amazon.com.